Vampire Squid Facts: Ancestors Of The Jurassic Seas!
Octopus? Squid? Cuttlefish? When you're none of the above, but you're still a mushy, 8-armed creature that moves about the ocean using jet propulsion, what could you possibly be? The one and only Vampyroteuthis infernalis, of course! Commonly known as the Vampire Squid, this exclusive cephalopod lives at crushing ocean depths with little oxygen. It can turn itself inside out and shoot glowing mucus when it gets scared. So let's step into our metaphorical deep-sea vehicle and dive into some of these vampire squid facts!
Where To Find This One-Of-A-Kind, Not-A-Squid Squid
The Vampire Squid takes up residence in a lovely slice of the ocean called the mesopelagic zone (600 to 1200 m or 2,000 to 4,000 ft), where the sun doesn't shine, the pressures are intense, and the temperatures are frigid.
Down here, this small (total length to ~30 cm or 1 ft.) dark red squid drifts along the ocean currents using its sticky tentacles to catch dead falling food from the shallower tropical and temperate waters above.
Its scientific name, Vampyroteuthis infernalis, literally means "Vampire Squid from hell," which is a lot to put on a perfectly harmless cephalopod that doesn't even hunt for its food!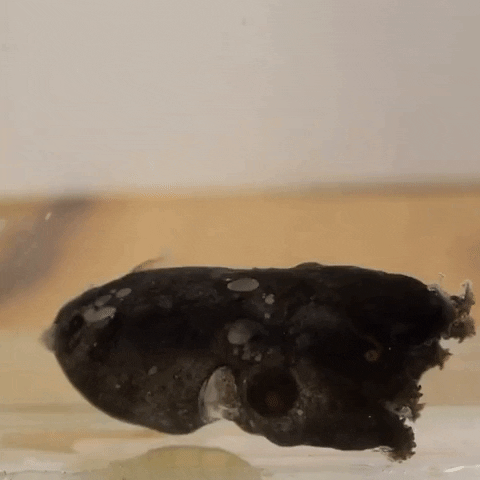 10 Awesome Vampire Squid Facts You Probably Didn't Know!
With so many of you asking us questions about the Vampire Squid on our Facebook and Instagram posts, we wanted to share some more fun facts about this cute cephalopod.
Did you know a Vampire Squid is technically not a squid?
The vampire is commonly referred to as a Vampire Squid, but deep-sea researchers found that vampires are more closely related to octopuses!
The first one ever collected was described as an octopus, and later on as a squid. However, that is technically not correct.
The average squid has eight arms and two long tentacles vs just the eight arms of an octopus – this is where the confusion first came up.
These cephalopods have eight arms (like an octopus) but lack the pair of long feeding tentacles of true squids and cuttlefishes. Vampire Squids have a pair of long filament-like appendages that retract into pouches between the first and second arm pair (similar to tentacles).
It's thought that vampires could be the ancestral line to both octopuses AND squids. They eventually got put in their very own taxonomy order named Vampyromorphida!
To avoid confusion, they've changed their nickname to simply "vampire".
Vampire Squids = living fossils
Vampyromorphs fossils have been found from the Jurassic period, between 201 million and 174 million years ago. That means they survived a mass extinction that wiped out 75% of the planet!
Considering their deep watery habitat most likely acted as a bomb shelter, vampires probably had no idea anything had even happened! Their anatomy has hardly changed since vampires first arrived on the scene millions of years ago.
Talk about an actual OG.
Why haven't they gone through any evolutionary changes?
There's been no reason to since their environment has stayed pretty much the same this whole time. Don't fix what ain't broke!
They live longer than most cephalopods!
Researchers believe that the vampire squid could live up to 10 years.
Compared to an octopus's lifespan, many octopuses don't even make it to a full year with many of their lives, wrapping up between the 2 to 5 year mark.
🐙 Octopus Fun Fact
The only cephalopod who has them beat, that we know of, is the nautilus! That spiral-shelled creature with 90 tentacles, who also resides in the deep, can live for 20 (or more!) years.
Woah! Those are some big blue eyeballs
Relative to their body size, which is about the size of a football, vampires have the largest eyes when compared to any animal in the animal kingdom. Particularly useful when the area you live in only gets 1% of sunlight, if any.
A vampire's large blue eyes means they have permanent night vision goggles!
They can turn into what?!?
Out of all of these Vampire Squid facts, this one is visually the coolest!
Researchers refer to a startled inverted vampire as displaying a 'pineapple posture'.
Essentially, a scared Vampire Squid is an inside-out Vampire Squid. Drawing their webbed arms up and over themselves exposes the cirri on their arm suckers that look like menacing spines but are completely harmless.
This posture also allows them to gather their arm tips together, and get this, GLOW!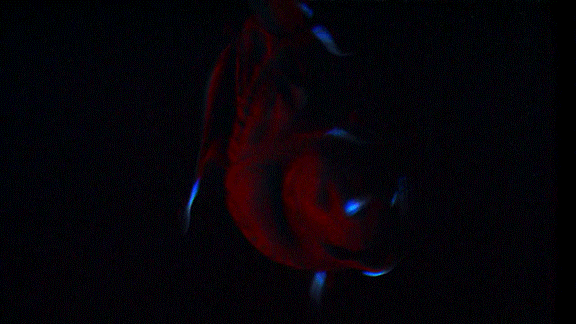 Glowing, or bioluminescence of the arm tips, helps draw the predator's eye away from the Vampire Squid's head and vital organs. If they do take a bite, the vampire can regrow the tips of their arms.
They can also wave their little glow stick tip arms around to confuse a predator who can't figure out what it's looking at or where it should attack.
Marine snow anyone?
Sounds tasty?
Like a salty snow cone you would expect to get at an underwater carnival?
Well, not quite… marine snow is a mixture of dead sea creatures, snot, and fecal pellets that have passed through a small animal.
Maybe it's only tasty if you're a Vampire Squid?
🐙 Octopus Fun Fact
While most species of cephalopods are carnivores, Vampire Squids are detrivores! They are the only known cephalopods that do not actively hunt for their prey.
The Vampire Squid is an expert at "fishing"
This special cephalopod has two thin retractable sensory filaments lined with hair-like structures used to feel out their surroundings and gather marine snow. These filaments can be tucked away into little pockets inside their webbing or released out to twice the length of their body.
Think of the filaments as a living fishing line in the dark. The vampire feels something out and either swoops down to feed on it or senses danger and gets out of there as quickly as possible.
They don't die after laying eggs!
Yet another way they are different from your average cephalopod!
While most die after laying their eggs, vampires can reproduce around 20 times (6,000 to 20,000 hatchlings throughout their lifetime).
Since females can hold onto sperm and save it in their mantle, they can also lay their eggs year-round! They can carry it around with them until they are ready to fertilize and lay their eggs.
Vampires can live with very little oxygen
The deep depths that the vampire inhabits have a range of challenges.
On top of the cold and low light is a low percentage of dissolved oxygen in the water (less than 5% in some spots!). It's known as the oxygen minimum zone, and the only known cephalopod to live there is the vampire!
Their copper-based blue blood helps to bind oxygen that they absorb from water passing over their large gills. It also helps that vampires are generally lazy and have a super low metabolism.
They prefer drifting on currents to catch food, saving up energy for when they are faced with a predator and need to make a speedy getaway.
Why would you choose to live in an area with super low oxygen?
Because not many predators can live in this area, keeping them safe from getting nibbled on.
Shooting ink or glowing mucus?
Like many deep-sea cephalopods who live in darkness and have few predators, the Vampire Squid lacks an ink sac. Because black ink in a pitch-black ocean would only result in more blackness, vamps here came up with a trick way cooler and straight out of a science fiction movie…
…Sticky, glowing mucus that they can shoot out to distract and dazzle a predator while they disappear into the inky waters!
The glow is made possible by bioluminescence (tiny light-producing microorganisms) and lasts for about 10 minutes. It can even stick to the predator, making it easy for the Vampire Squid to keep track of where the predator is as it slinks off into the dark abyss.
How awesome is that?!?
Did you learn any new Vampire Squid facts?
If you want to educate yourself some more about all sorts of different cephalopods, take a look at our encyclopedia. Or, what we call it, our Octopedia!
Connect with other octopus lovers via the OctoNation Facebook group, OctopusFanClub.com! Make sure to follow us on Facebook and Instagram to keep up to date with the conservation, education, and ongoing research of cephalopods.
More Posts To Read: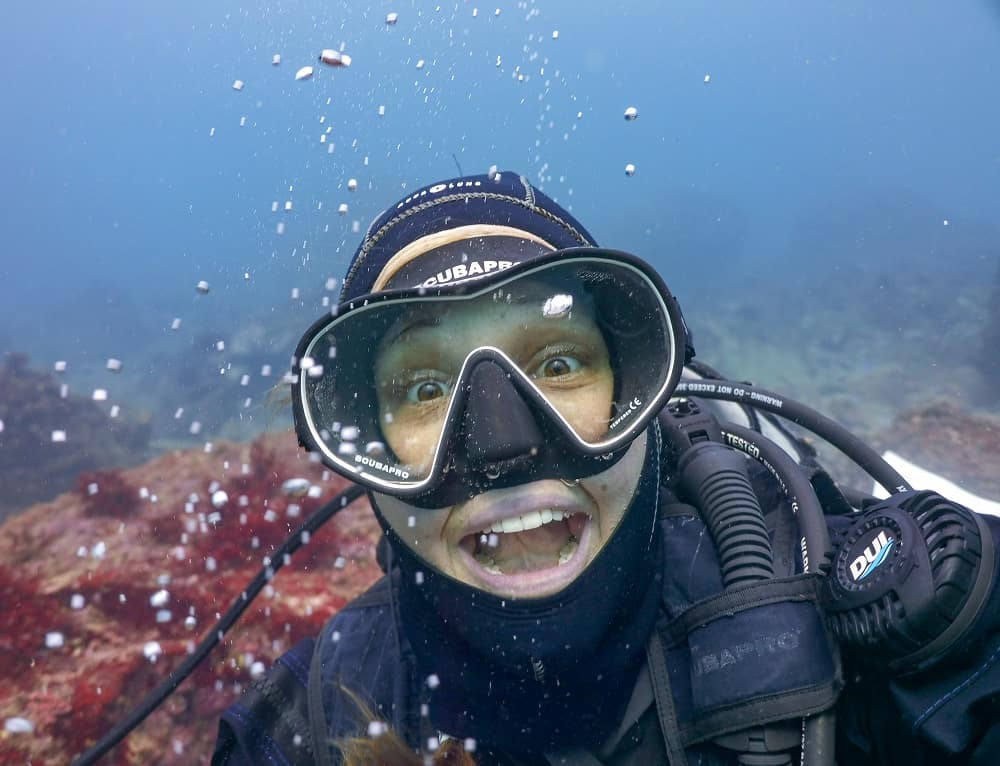 Corinne is a biologist with 10 years of experience in the fields of marine and wildlife biology. She has a Master's degree in marine science from the University of Auckland and throughout her career has worked on multiple international marine conservation projects as an environmental consultant. She is an avid scuba diver, underwater photographer, and loves to share random facts about sea creatures with anyone who will listen. Based in Japan, Corinne currently works in medical research and scientific freelance writing!