Does An Octopus Have Arms Or Tentacles?
Arms! Tentacles! What's the difference? Which cephalopod has what!? When it comes to cephalopod appendages, especially octopus, tentacles seem to be that all-encompassing umbrella term that gets used when describing those long, flexible appendages. We are here to answer the ultimate question: Does an octopus have arms or tentacles? Let's break it down!
Okay, let's cut straight to the chase.
Does an octopus have arms or tentacles? Time for the big reveal of who has what!
Octopuses have 8 arms and no tentacles
Cuttlefishes have 8 arms and 2 tentacles
Squids have 8 arms and 2 tentacles
Nautiluses have no arms and around 90 suckerless tentacles
Yup, now it's out there!
Having 8 arms, octopuses can be referred to as octopods while cuttlefishes and squids, having a total of 10 arms, are referred to as decapods.
How do cephalopods arms and tentacles function?
Arms and tentacles are boneless limbs composed of muscles, nerves, and a skin layer to cover it all.
Cephalopod arms and tentacles have a nerve cord running through the center surrounded by 4 types of muscle!
Instead of having the support of a skeletal bone structure like we do, cephalopods rely on muscular hydrostats to keep them in tip-top cephalopod form.
A muscular hydrostat is made up of densely packed muscle groups that are arranged in a cylinder-like structure. ​​This allows the arm or tentacle to bend, elongate, shorten, twist, and stiffen.
Sounds complicated… Think of arms and tentacles like your own tongue!
It's mostly muscles that make licking an ice cream cone possible. With no bones in the way, the arms and tentacles can move in any direction and have nearly unlimited degrees of freedom.
🐙 Octopus Fun Fact
Along with the human tongue, elephant trunks, leeches, and most worms all have a muscular hydrostat system!
Nerves play a BIG role in cephalopod arms as well!
Each sucker is surrounded by a nerve ring, connected to a bundle of nerves, which in turn is connected to the main nerve cord in each arm.
With many satellite or mini-brains, cephalopods are able to process certain information from its arm without consulting the main (central) brain. Like if you were watching TV, your hand could search for the remote or grab the popcorn without you even having to think about it!
What's the difference between an octopus arm and a tentacle?
The biggest difference between arms and tentacles is their sucker placement!
In general, octopus arms have suckers along the entire length with most octopuses having two rows of suckers running down their arms.
Unless of course, you're the fabulous and unique Glass Octopus who only has one row of widely spaced suckers for each arm that look like cute little dollops of whipped cream.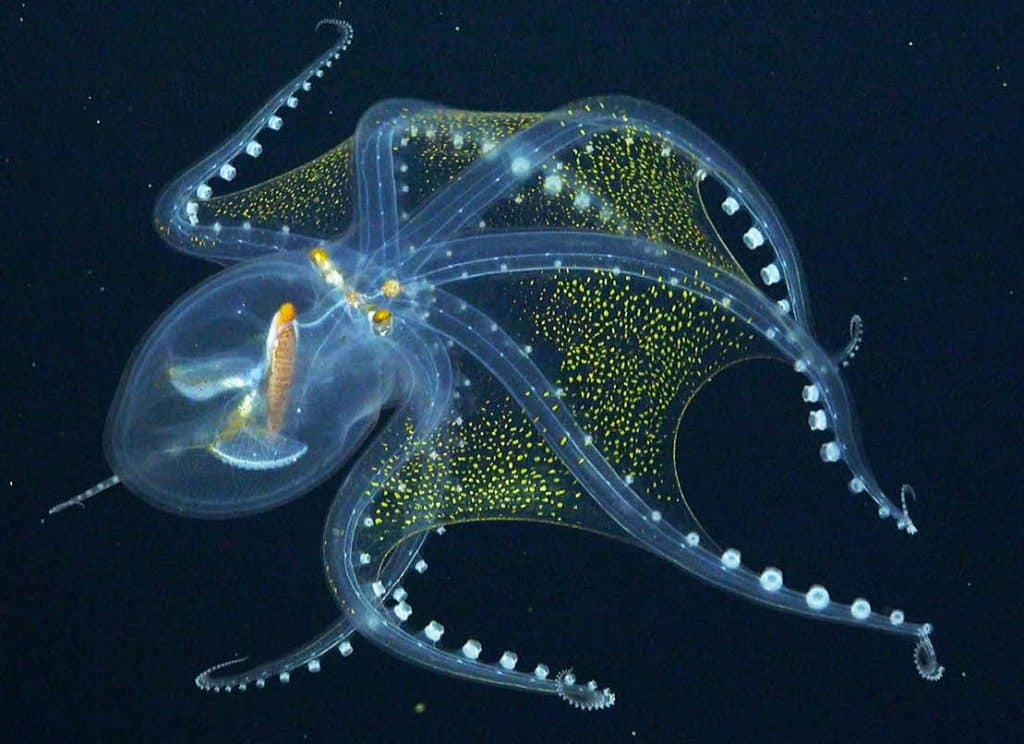 By contrast, tentacles are smooth with no or reduced suckers and have a wider end (aka distal club) full of suckers. In some species, these suckers have tiny hooks inside them, helping cuttlefish and squid latch onto their prey.
The exception to this is the Nautilus, which has 90 suckerless tentacles with adhesive ridges to help them trap and secure food.
🐙 Octopus Fun Fact
Suckers on octopus arms are way more sensitive than those at the end of a squid tentacle. Octopus suckers have 10,000 chemotactile receptors vs. only around 100 on each tentacle sucker.
Check out this blog post and learn everything there is to know about octopus suckers!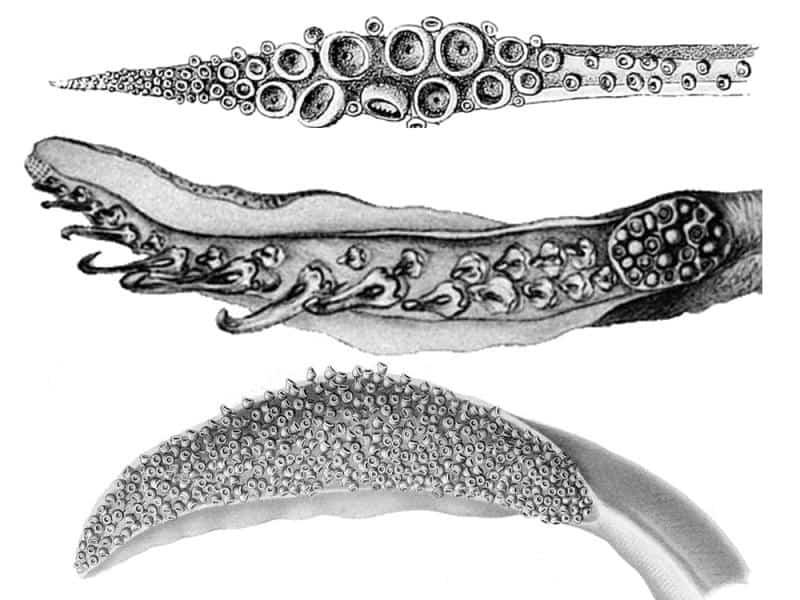 What does an octopus use their arms for?
If you think about each of these cephalopod's lifestyles, their arm/tentacle configuration starts to make perfect sense.
Many octopuses live on reefs where they use their 8 arms to:
Crawl around
Hang on surfaces
Search the many nooks and crannies for prey!
Octopus use their arms for:
Grasping
Movement
Grooming
Defense
Mating
Chemo-sensing
Tactile sensing
On the other hand, squid and cuttlefish spend much of their time suspended in the water column and use their tentacles primarily for hunting.
Since squids love a delicious shrimp dinner, they need to be quick if they have any chance of catching them. They will strike prey with tentacles that can elongate up to 80% of their original length in a matter of milliseconds.
Once caught, their tentacles retract and their arms take over for prey handling.
🐙 Octopus Fun Fact
The Vampire Squid has 8 arms and 2 highly modified tentacles. Instead of the status quo tentacles, they have two thin, retractable sensory filaments lined with hair-like structures, which they use to feel out their surroundings.
Super handy to have a highly sensitive fishing line that can sense food or danger when you live in the black depth of the ocean!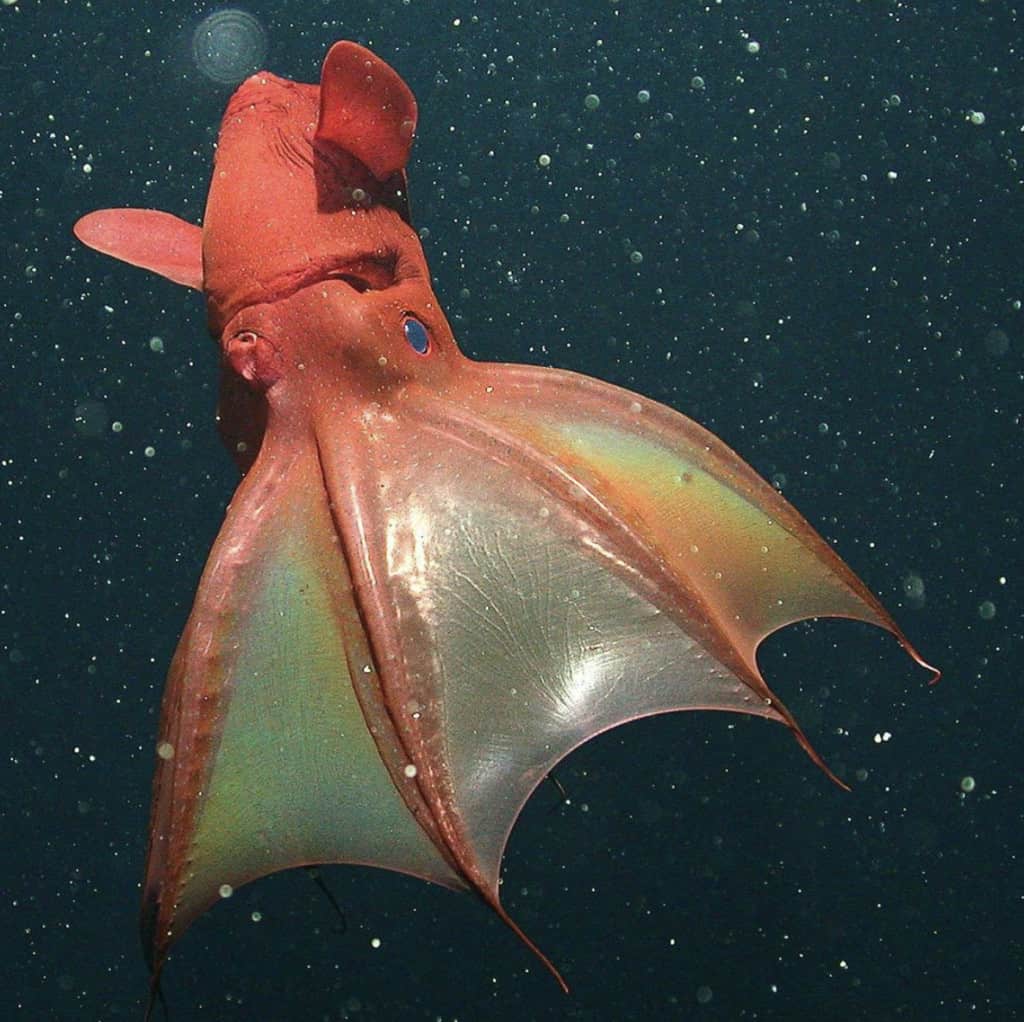 They can regenerate?!?
Cephalopods rejoice!
Both arms AND tentacles can completely regenerate in a matter of months!
The regeneration time frame depends on multiple things including:
A study on tentacle regeneration in the Common Cuttlefish (Sepia officinalis) showed that their regeneration process is the same as that in an arm; however, the sucker regrowth is delayed.
While injuries to arms and tentacles can occur, cephalopods can also voluntarily "drop" an appendage. This is known as autotomy.
It's common for some species of male cephalopods, like the Dumbo Octopus and Blanket Octopus, to break off their specialized mating arm (hectocotylus) and give it to the female when they mate.
The Deep Sea Squid (Octopoteuthis deletron) takes this nifty trick to a whole new level with "attack autotomy".
It has bioluminescent arms, which can break off and continue to wiggle as they float away. This keeps a predator distracted while the squid slinks away unscathed.
Turns out these glowing arm parts can also stay attached to their attacker!
Unlike octopus arms, which have a specific "break" point, these squids can break off their arms just above where they are grabbed. This saves as much of their arm as possible with less arm to regrow ultimately saving them precious regrowth energy.
So, ​​does an octopus have arms or tentacles? Finally answered!
And there you have it! Consider yourself well versed in tentacles and arms which belong to the appropriate cephalopod…at least for now.
Considering the ocean is less explored than the moon, I wouldn't be surprised if somewhere out there lurks a 3 armed, 10 tentacled octopus or a 10 armed, no tentacled squid just waiting to be discovered throwing everything we know to be true right out the window.
If you want to educate yourself some more about all sorts of different cephalopods, take a look at our encyclopedia. Or, what we call it, our Octopedia!
Connect with other octopus lovers via the OctoNation Facebook group, OctopusFanClub.com! Make sure to follow us on Facebook and Instagram to keep up to date with the conservation, education, and ongoing research of cephalopods.
More Posts To Read: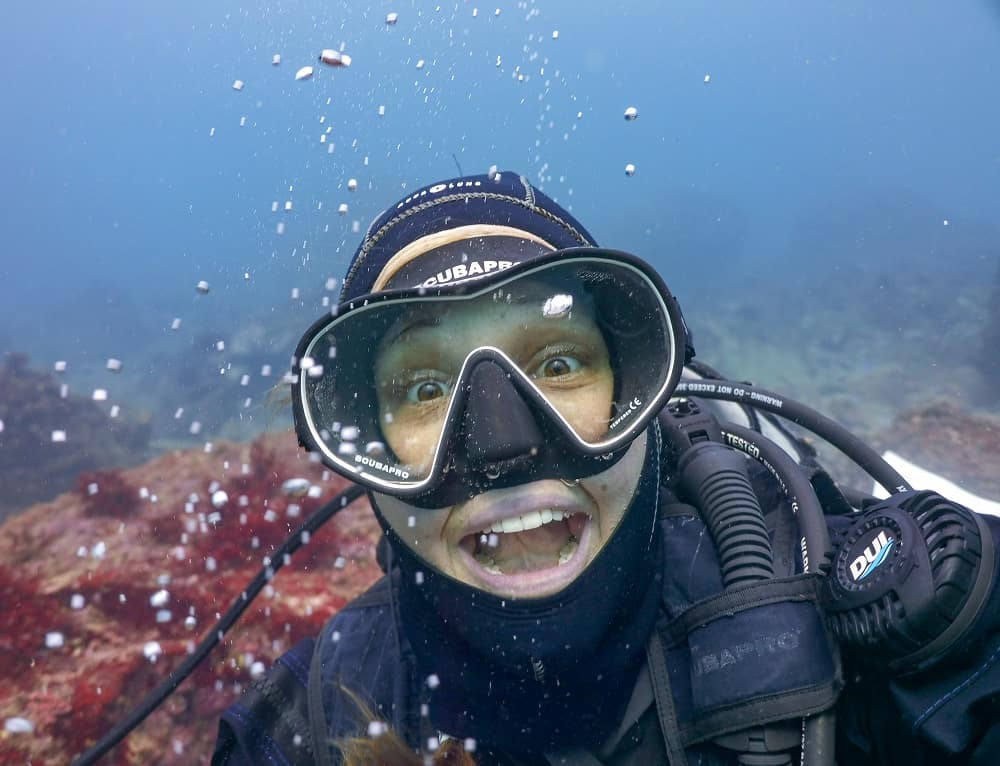 Corinne is a biologist with 10 years of experience in the fields of marine and wildlife biology. She has a Master's degree in marine science from the University of Auckland and throughout her career has worked on multiple international marine conservation projects as an environmental consultant. She is an avid scuba diver, underwater photographer, and loves to share random facts about sea creatures with anyone who will listen. Based in Japan, Corinne currently works in medical research and scientific freelance writing!