Breaking News – There are now THREE new species of Nautilus!
The Nautilus! A beautifully shelled creature you might have heard referred to as a living fossil. Like all cephalopods, these fascinating animals have been around for more than 500 million years! But is the shelled Nautilus really just an ancestral being, unchanged over millions of years? Or is there more to the story? We chatted with scientist Greg Barord, who has been studying Nautilus for over 20 years and recently identified three new species of Nautilus! Let's learn about this elusive group, how Barord and his team discovered these new species, and what implications this may have on the future of nautilus conservation.
When we think of cephalopods, our thoughts usually drift to octopus, squid, and cuttlefish. However, the Nautilus is by far the most unique cephalopod of the bunch, bucking all the stereotypes!
What is a Nautilus?
Nautilus all possess a spiraled, chambered, hard shell which they use to pump water in and out of to control their buoyancy. Their soft bodies live in the outermost compartment, and when necessary, they can withdraw into their shell for protection, sealing themselves in with a fleshy trapdoor called a hood.
Nautilus range in size from 6 to 10 inches (15 -25 cm) depending on species.
🐙 Octopus Fun Fact
They have over 90 sucker-less tentacles, primitive pinhole eyes, a lifespan between 15-20 years, and females lay eggs multiple times throughout their lives (no senescence here!).
Had they made a documentary, "My Nautilus Teacher", it would have been much less depressing 😉
Where do Nautilus live?
Nautilus reside along coastal shelves of the Indo-Pacific Ocean off Australia and southeast Asia, spending their time moving between around 2,600 feet (800 meters) to 800 feet (250 meters) of water.
They like to come up to the 'shallows' at night to scavenge on dead fish and crustaceans or, when the mood is right, in search of a mate.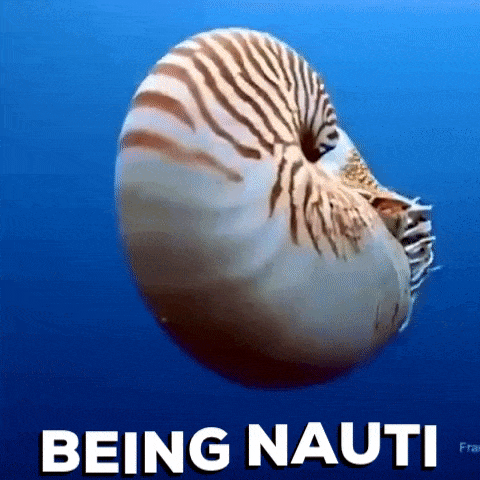 How many species of Nautilus are there?
The number of valid Nautilus species remains a hotly contested topic amongst researchers. However, they do agree on two separate genus within the Nautilidae family:
The Nautilus
Allonautilus
🐙 Octopus Fun Fact
The latter group has a distinct fuzzy (or crusty) shell and was thought to have been extinct for 30 years!
Well, now we have three new species of Nautilus to add!
To shake up the nautilus species count is a new study led by scientist Greg Barord who has identified three new species from the Coral Sea and South Pacific:
Nautilus vitiensis
Nautilus samoaensis
And, Nautilus vanuatuensis
Using genetic information paired with geographical locations, behavioral traits, and morphological characteristics such as shell color, pattern, and size, this team of biologists were able to differentiate between species!
How is that possible?
Barord explains:
"This is a perfect example of the complexity of not only extant nautiloids, but extinct nautiloids as well. I think we have painted a picture of all Nautiluses being the same, whether from millions of years ago compared to today or looking at Nautiluses in Fiji compared to those in American Samoa. Each region has a different set of variables that nautiluses are adapting to, leading to the changes we are only beginning to see…"

Greg Barord
These animals have been around for more than 500 million years and are often referred to as "living fossils" based on their resemblance to old Nautilus fossil records.
But guess what?
500 million years is also a significant time for some evolution to occur.; Which is exactly what the Nautilus has been doing, and Barord's research shows just that!
"These new descriptions provide more evidence of the adaptive radiation currently going on with different nautilus populations across the Indo-Pacific."

Greg Barord
How have they been able to evolve?
Nautilus populations have natural barriers within the ocean. They can't go below 2,600 feet (800 meters), or else they will implode, and you usually won't find them above 800 feet (250 meters) because it's too warm.
This provides the perfect conditions for Nautilus groups to evolve separately from one another without the possibility of populations mixing!
"I wonder how different other aspects of their natural history are… perhaps their reproductive strategy, feeding behaviors, and migration patterns are all distinct as well, based upon their localized habitat?"

Greg Barord
Using BRUVS to advance Nautilus research
As with most creatures that live within our vast oceans and below depths any recreational diver can go, Nautilus have been notoriously hard to study.
The best way to observe them has been through baited remote underwater video systems (BRUVS), which Barord and his team used to observe and also capture Nautilus.
Note: Don't worry; no nautilus were harmed in this study! Waters were kept chilly to keep the nautilus comfortable, tiny tentacle samples were taken, and divers even escorted the Nautilus in the water down to 100 feet (30 meters, the limit for recreational diving).
🐙 Octopus Fun Fact
To make sure Nautilus didn't have extra air bubbles stuck in their shells, divers were responsible for 'burping' any Nautilus that were struggling so they could regain buoyancy and zoom back down to the deep! Yup, Dr. Barord is a professional Nautilus burper.
Is it possible there are more Nautilus species?
Barord knows there's still much to learn…
"This was a significant step forward in our overall understanding of nautiluses, however, the most widely known, mysterious animal in our oceans still has so many mysteries – where do they lay eggs, what do they eat, how do they know what their buoyancy is, what is their role in the ecosystem?"

Greg Barord
How can I support Nautilus research and conservation?
Up until 2016, when Nautilus garnered some protections under the convention on International Trade in Endangered Species (CITES), the Nautilus trade was completely unchecked.
Prized for their beautiful shells, over half a million Nautilus shells were imported into the U.S. alone between 2006 and 2010 for souvenirs and jewelry. Unfortunately, Nautilus are still unlisted under the International Union for Conservation and Nature (IUCN). Even with previous research shows that Nautilus populations in heavily fished areas are in vast decline or have gone altogether.
Sadly, threats such as habitat loss, over-fishing, and climate change, coupled with the Nautilus's slow growth and reproductive rates, are having an immense impact on these adorable creatures.
Barord can't help but ponder…
"I wonder what these new descriptions mean for nautilus conservation? It could mean a great deal! These descriptions also shed light on the potential to monitor the trade of Nautilus shells in the future by being able to clearly identify the pattern on the shell to a specific species."

Greg Barord
The more we know about Nautilus, the better we can protect them, which in turn will hopefully lead to higher chances of survival for all Nautilus species!
The fact that Nautilus have survived through 5 mass extinctions suggests that these spinning pinwheels of joy may hold hidden insights for us to explore!
Like any good inquisitive biologist, Barord is always ready to learn more,
"I am stoked to continue learning more and more about nautiluses AND sharing what we've learned with the world so that we might be able to get a tiny, peak into the Secret Life of Nautiluses."

Greg Barord
Check out Save The Nautilus, a conservation organization led by Dr. Peter Ward and Dr. Greg Barord!
We can't wait to learn more about these elusive cephalopods either, especially if it means they will be around for another 500 million years!
If you want to educate yourself some more about all sorts of different cephalopods, take a look at our encyclopedia. Or, what we call it, our Octopedia!
Connect with other octopus lovers via the OctoNation Facebook group, OctopusFanClub.com! Make sure to follow us on Facebook and Instagram to keep up to date with the conservation, education, and ongoing research of cephalopods.
References: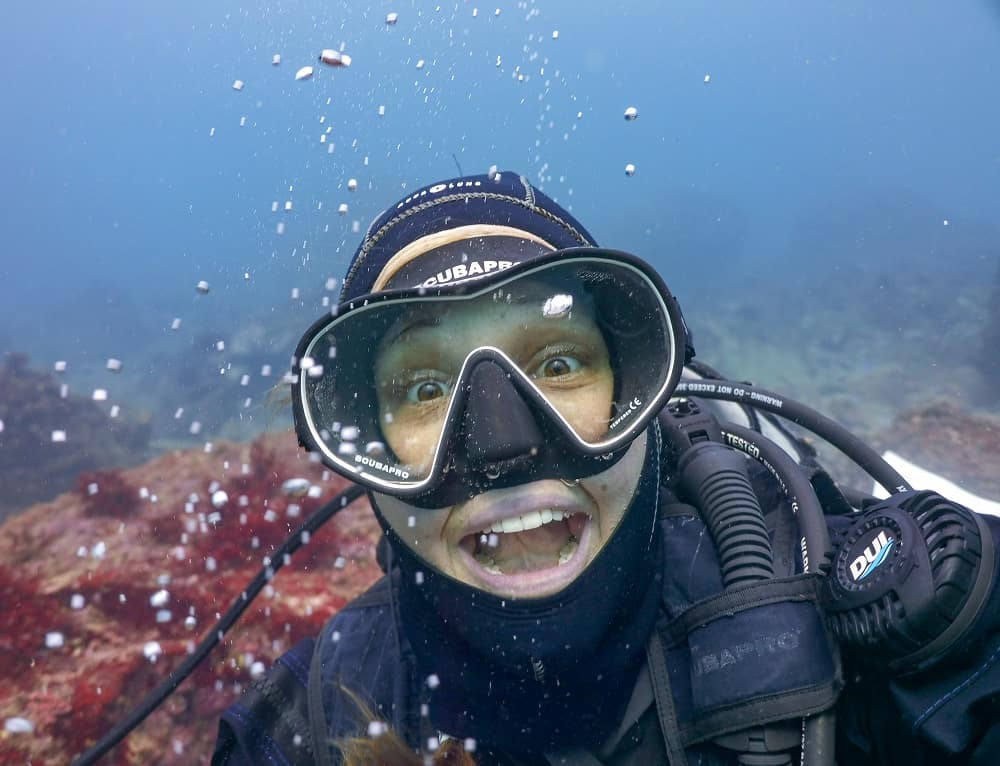 Corinne is a biologist with 10 years of experience in the fields of marine and wildlife biology. She has a Master's degree in marine science from the University of Auckland and throughout her career has worked on multiple international marine conservation projects as an environmental consultant. She is an avid scuba diver, underwater photographer, and loves to share random facts about sea creatures with anyone who will listen. Based in Japan, Corinne currently works in medical research and scientific freelance writing!