'Artist Spotlight' Of The Week: Abbas Husain (Bagman Studios)
Howdy Nation! In today's post, we are going to be featuring our 'Artist Spotlight' of the week: Abbas Husain. As the creative illustrator for Bagman Studios, Abbas has been pushing the boundaries of printmaking and illustration for years. He is passionate about creating unique works of art that capture the essence of his style and speak to audiences around the world. To get a better understanding of his creative process, we asked him to answer a few questions so that you can get to know more about him and his process for screen printing octopus art!
Meet Abbas Husain!
Drawing since he was old enough to hold and eat crayons, Abbas has leaned into his creative side his whole life. After finishing art school at the University of Michigan, he spent several years managing a graphics department at an apparel company.
In 2016, Abbas took a screen printing class at a local print shop in Detroit. His first few prints did well on social media, so he decided to quit his day job and focus full-time on screen printing in the basement of his mother's house.
In 2021, Abbas moved to Chicago with his girlfriend Noreen, and they set up their screen printing studio. They wanted to have better access to the art and printmaking communities, so they decided it was time for a change of scenery.
Since moving to Chicago, Abbas, and Noreen have been creating amazing prints together that have taken social media by storm! It's clear that Abbas is passionate about creating beautiful works of art and that he still has a lot to give the world.
His prints are truly one-of-a-kind, and it's inspiring to watch him continue to hone his craft with each new piece!
Tell us a bit about your octopus artwork
I have several octopus-themed art pieces, so I'll explain a few of them.
"Mischief" – 5 color screen print, 2022
I have a few pieces featuring a cat and an octopus. They are two creatures that go together well, I think, in terms of shape, personality, and general weirdness. If you draw an octopus doing something unusual, it is somehow believable because their "normal" behavior is very unusual for sea creatures. The same is true for cats–they can be kind of erratic, while still being fun and cute.
"Mischief" is a story about a cat whose mystic foresight helps him fulfill his most chaotic desires, despite the efforts of a well-meaning octopus.
"Octopus Errands" – 4 color screen print, 2022
There's something very funny to me about an octopus using an umbrella to avoid the rain. The yellow umbrella and the boots reference the Morton Salt logo, which also features someone carrying groceries in the rain.
I think cats and octopuses have opposite preferences when it comes to water…but these two are friends, so they can find a middle ground. And, in my opinion, it is worth ruining your bread to pet a nice kitty cat.
"Octopus Heel" (acrylic painting) and "Gardener" (pen and marker drawing)
I made these for my girlfriend, Noreen, because she loves fish so much!
I've always drawn sea creatures, but when Noreen and I got together, we started going to aquariums all the time and learning about so many more fish. It has inspired me to make a lot more ocean art.
Noreen and I have focused our own growing art collection on sea creatures, bright colors, and surrealist art, so these two pieces fit right in.
What draws you in or fascinates you the most about octopuses?
"Octopuses feel somewhat alien to me–eight arms, nine brains, three hearts, blue blood, and color-changing? It's like a small child designed this creature!

Plus, octopuses' problem-solving abilities make them a rich subject for illustration–they are believable as a character in almost any situation."
How did you first become interested in creating art featuring octopuses?
"Because of the extreme ways octopuses can move, and how malleable their physical bodies are, I can position them in a lot of different ways to convey personality, emotion, and movement.

I've especially loved visiting the Giant Pacific Octopus at the Shedd Aquarium in Chicago, where I go frequently to get inspiration and reference photos.

My style is somewhere halfway between realistic and illustrative, so I like to draw creatures that have lots of realistic details I can include, but can still be made to look cartoonish."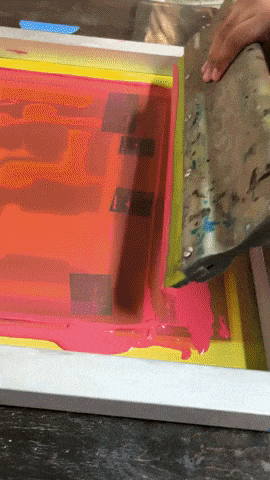 How long your work takes you to complete… Can you discuss any interesting or unique techniques you use?
"I primarily make screen prints through a process where separate colors are printed one at a time using a silk screen. The colors are made with a hand mixed paint. The results are a vibrant, thick print that is more of an original piece of artwork than a inkjet print.

When I have a new idea for a print, I start with rough sketching to determine the composition. Then, with pencil & pen or digital drawing, I draw the line work for the design. Then Noreen or I will digitally build all the layers of color underneath the line work.

In our printing studio, Noreen and I pull each print by hand, carefully layering each color, making sure they line up, and letting them dry in between layers. The entire process takes at least 1-2 weeks–more time if it's a large or more complicated print."
Was this modeled after a specific octopus species?
"Most of my octopus artwork is modeled after Giant Pacific Octopuses, just because I love the ones I've seen at places like the Shedd Aquarium and the Seattle Aquarium. I use my own reference photos as well as tons of professional marine photography online!"
What materials were used?
"My prints are made with silk screens and hand mixed screen printing ink on heavy cover paper."
Who (or what) are your biggest influences?
"I am influenced by a lot of different artists, especially screen printers, comic book artists, and surrealists. Some of my favorites include:

Moebius
The Bird Machine
Faunwood
Dave Kloc
Teryll Whitlatch
Josh Keyes
Chris Austin

I am always seeing new amazing artists on Instagram so I get lots of inspiration from there."
How do you know when a piece is finished?
"A piece is finished when Noreen says "Hey, stop drawing, it's time to go to the print studio." There's no making changes once we start printing."
What's the best website for people to discover your work?
Follow our Instagram @BagmanStudios or visit bagmanstudios.com!
Do you have an artist statement?
"I struggled to find my artistic voice until I realized that I primarily wanted my art to evoke joy. I think laughter is a valuable and underappreciated reaction to art. I approach pop art and humorous subjects to elevate them to the quality of fine art.

Sometimes, I like to take serious or scary subjects, such as demons and death, and poke fun at them because humor and art feel like natural ways to cope with fear and anxiety.

While I have funny subjects for my art, I always take my craft very seriously– I want it to be goofy, but I want it to be well-drawn."
Thank You For Joining Us For Artist Spotlight!
First, we want to give a big thank you to Abbas Husain for allowing us to showcase his beautiful octopus artwork on OctoNation. To continue supporting Bagman Studios, make sure to follow them on Instagram @BagmanStudios or check out their latest collab with Shedd Aquarium!
If you want to educate yourself some more about all sorts of different cephalopods, take a look at our encyclopedia. Or, what we call it, our Octopedia!
Connect with other octopus lovers via the OctoNation Facebook group, OctopusFanClub.com! Make sure to follow us on Facebook and Instagram to keep up to date with the conservation, education, and ongoing research of cephalopods.
More Artist Spotlights To Read:
Vee is the blog manager here at OctoNation. Her love and knowledge for all things cephalopods has grown immensely since joining the OctoNation team- and continues to grow daily!
Vee uses her skills of writing, editing, and brainstorming to help create fun, yet educational posts about cephalopods- Something everyone can read and enjoy! As someone who spent the better part of her childhood near the ocean in Miami, Florida, she grew up learning to appreciate all sea life. Her love for the sea inspired her to do something daring- she dyed her hair blue!