Octopus Sweater: The Perfect Hand-Stitched Addition
Learn why octopuses make the perfect addition to your favorite sweater. Special thanks to Ella Beaudoin for sharing her octopus-inspired knitted sweater!
Last month, archaeologist and artist Ella Beaudoin went 'viral' showing off the hand-stitched blue-ringed octopus she had added to a vintage fisherman's sweater.
For Ella, the attention her octopus creation received came as a surprise.
"I've always been someone who's very big about costuming and art, especially when it comes to clothing, and I've always been posting online," she explains. "I just posted the octopus and then all of a sudden, everything started happening. It's been slightly overwhelming, to be honest."
What Inspired Ella Beaudoin To Make An Octopus Sweater
Ella describes herself as having always been "a little obsessed" with the ocean. But, it was a recent ocean-themed movie marathon culminating with the recent Netflix documentary "My Octopus Teacher" that inspired Ella's creation of the octopus sweater.
"I just thought…the structure [of an octopus] is just so unbelievably beautiful."
Ella's growing appreciation for the octopus tied in nicely with her new knitting hobby.
"I've been trying to learn how to knit better, [then] I found this pattern that used a lot of the same skills I'd been learning from other patterns that was an octopus," she explains. "I desperately tried to do it, could not figure it out, kept swearing at my needles…and then ended up just making up my own pattern based on really basic skills," she adds. "This is actually super easy to make."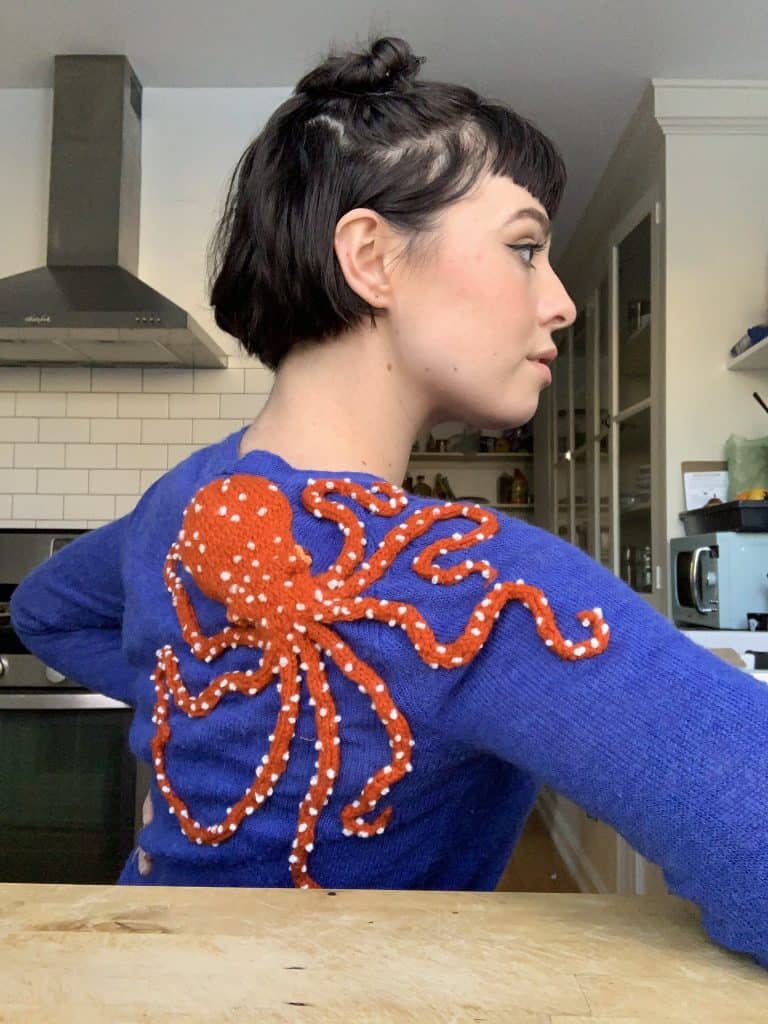 As an artist, Ella finds the shape of the octopus particularly compelling.
"They're not only in real life so fluid, but artistically they're really beautiful, and with clothing can fit in kind of shapes of the body really beautifully, which I enjoyed as well."
Texture was an important consideration in Ella's work, too.
"I feel like an octopus has to have that kind of texture or it isn't true to what they are."
Why She Chose A Blue-Ringed Octopus Pattern To Knit On A Sweater
Ella's choice of the blue-ringed octopus was no accident.
Despite her colorful wardrobe, Ella appreciates the poisonous beauty of this particular octopus species.
"It's the kind of thing that says 'I am beautiful, but don't touch me.' Indeed, placing a real blue-ringed octopus on your shoulder could lead to a painful surprise.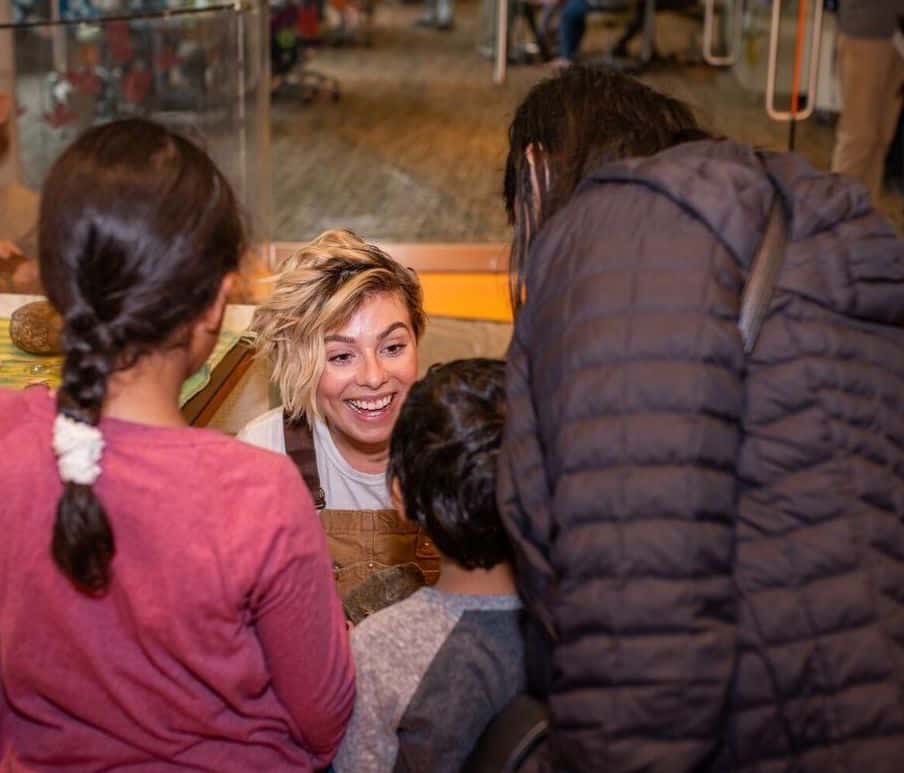 Ella's Archaeological Connection To Octopuses
Beyond her artistic creations, Ella's work as an archaeologist has led to some unexpected connections with octopuses as well. Ella's research focuses on the use of tools by our human ancestors, hominins.
"If we find a stone tool and it has these certain breakage patterns that we know identify it to be a stone tool, we can assume an early human, an early hominin was there and left it," she explains.
Since there's no written record of the history of our hominin ancestors, studying tools can help scientists better understand our ancestors.
However, the growing field of animal archaeology shows that human relatives are not the only tool-makers.
"What we're finding out more and more now is that there are things like baboons that will knock rocks together just to make the sound because they like the sound," Ella explains. "We've seen crows use tools. We've also seen otters sometimes take a pebble and keep their pebble for their whole life."
And, as octopus lovers know well, octopuses, too, are known tool users.
"While we've never observed [octopuses], obviously, making a stone tool, the ways in which they're using things to protect themselves, using things to alter the world around them, is fascinating and probably could tell us a lot about what we might be confusing in the record for us understanding our human origins."
From The Blue-Ringed Octopus Sweater To The Atlantic White-Spotted Octopus
The popularity of Ella's blue-ringed octopus sweater inspired her to create a second octo-sweater, this time with an Atlantic white-spotted octopus, which she quickly sold online.
Despite the massive appeal, Ella doesn't expect to continue churning out octo-sweaters.
"I'm trying very hard to only make things when I want to make them and when I find it interesting and/or fulfilling to make." I
Instead, Ella plans to continue knitting critters onto clothing as her favorite form of self-expression.
The pattern that inspired Ella to knit her blue-ringed octopus sweater is available here. You can follow Ella and her artistic endeavors on Instagram @simple_homo_slaypien and Twitter @ella_beaudoin.
Connect with her and other octopus lovers via the OctoNation Facebook group, OctopusFanClub.com!
Make sure to follow us on Facebook and Instagram to keep up to date with the conservation, education, and ongoing research of cephalopods.
More Posts To Read:
If you loved this hand-stitched octopus sweater, we recommend taking a look at some of these octopus themed products: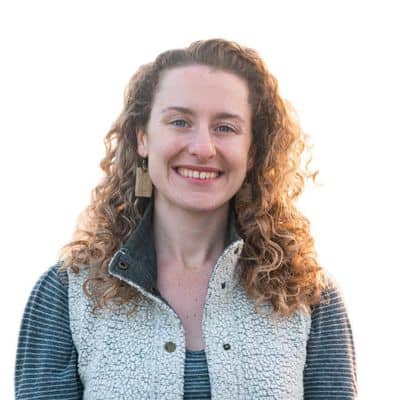 Liz is a marine biologist, environmental regulation specialist, and science writer. She's previously studied Antarctic fish, seaweed, and marine coastal ecology.