'Artist Spotlight' Of The Week: Hayley Egan
Howdy Nation! In today's post, we will be featuring our 'Artist Spotlight' of the week: Hayley Egan. Hayley is here to talk to us and share her process for creating some beautiful octopus sculptures and jewelry, specifically her 1930's inspired chandelier!
Meet Hayley Egan!
I'm really pumped to introduce you all to today's artist- Hayley Egan!
Hayley is an island girl at heart. She grew up in Tonga, by the ocean, and she always had a thing for art that also has a functional element.
That's why, after years of selling octopus paintings, she was elated to get her first commissioned octopus chandelier ten years ago. Since then, she has developed a technique for making this out-there one-off octopus Cecaelia chandelier and other works (like lamps).
Her Cecaelia design conveys feminine strength, cunning, and fierceness, while her "Salt Water Taffy" design brings whimsy and child-like imagination. There's a little something for everyone!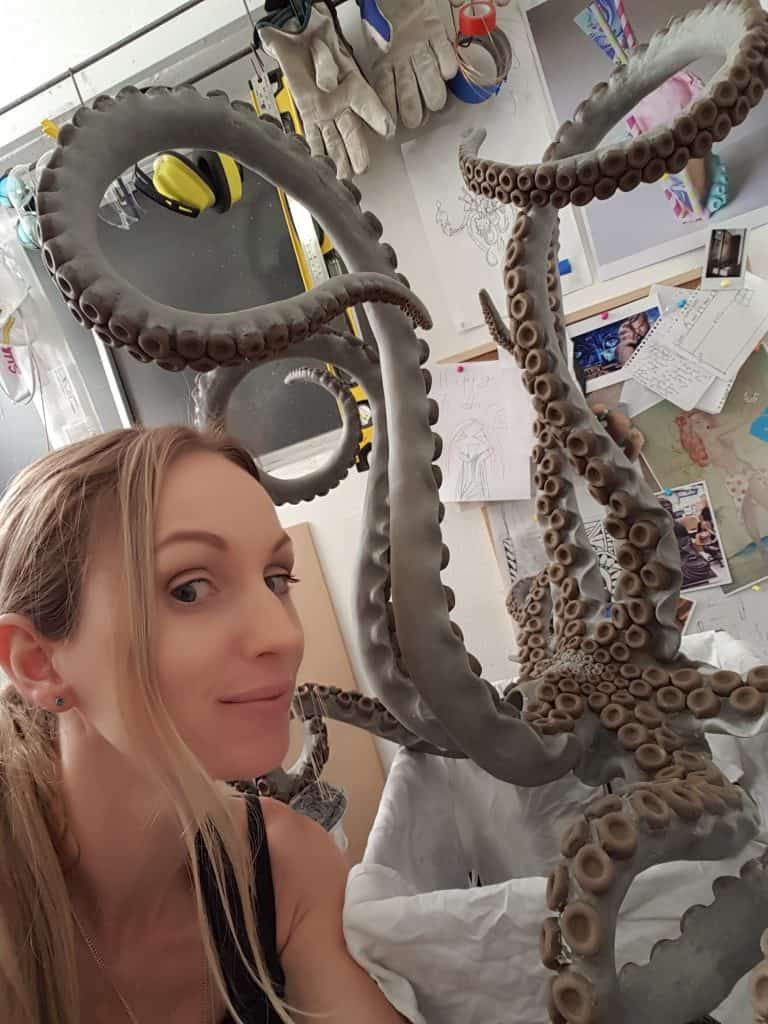 In addition to being an incredibly talented artist, Hayley is also a businesswoman who knows how to sell art AND jewelry. She has an Etsy shop where she sells silver and gold jewelry pendants.
Her hand-sculpted octopus pendant is one of her most popular pieces (and with good reason!).
Hayley, what draws you in or fascinates you the most about octopuses? When did this start for you?
"My fascination with octopuses definitely comes from the way they move. Even though my sculptures and paintings are static, I try to capture a sense of movement with the pose, splashing the paint around or overexaggerating their flowing webbing.

I grew up snorkeling and exploring the tidal rocks along the shores of the Tongan Islands. I would often see octopuses in their natural habitat and was fascinated at how they would move in the water and then along the rocks, changing texture and colour as they went.

We would also find all different kinds of nudibranch and sea urchins in the shallows!

All these dream-like sea creatures have definitely inspired me as a sculptor, but nothing as much as the octopus has."
OctoNation members love knowing how long your work takes you to complete… Can you describe the process?
"The chandeliers take me about a month, now that I have refined my technique.

The first few that I made, I would mold and cast. They were more uniform; however, I really love the freedom and individuality of the pieces that I do now, which are free-form sculpted over an armature that I bend and weld together.

I even have a technique for making the final chandelier balance!

Because as you can imagine, sculpting something with eight wild arms doing their own thing… won't always play well with gravity.

To be honest, I love the process even more than the end result. If it was complicated and exciting to make, I'm happy! So, something with eight arms and hundreds of suckers is always a fun challenge!"
Note: Check out this video and watch on Hayley creates and puts together an octopus-inspired pendant necklace!
Was this modeled after a specific octopus species? Did you use any references?
"It was actually modeled after the octopus from my memories! I sculpt or paint from what's in my head mostly, from quick glimpses and faded childhood memories.

I'm sure it's not at all accurate, but my art is very much a reflection of my childhood experiences (which were often enriched by fantasy or embellished by imagination)."
What materials were used?
"I used resin, metal… and of course, the chandeliers and lamps have electrical wiring, so they light up!"
Who (or what) are your biggest influences?
"My father! Here is a surfer and a 70's surfboard airbrush artist. He was the one who took me snorkeling and shell collecting for hours on end; he always found all the good stuff!

I also love 1930's décor, and my chandeliers do give the nod to that era."
When do you feel the most creative?
"I tend to feel most creative at night, for sure. And, I need to always be near the ocean. Even if I can't see it, I just need to know it's not too far away."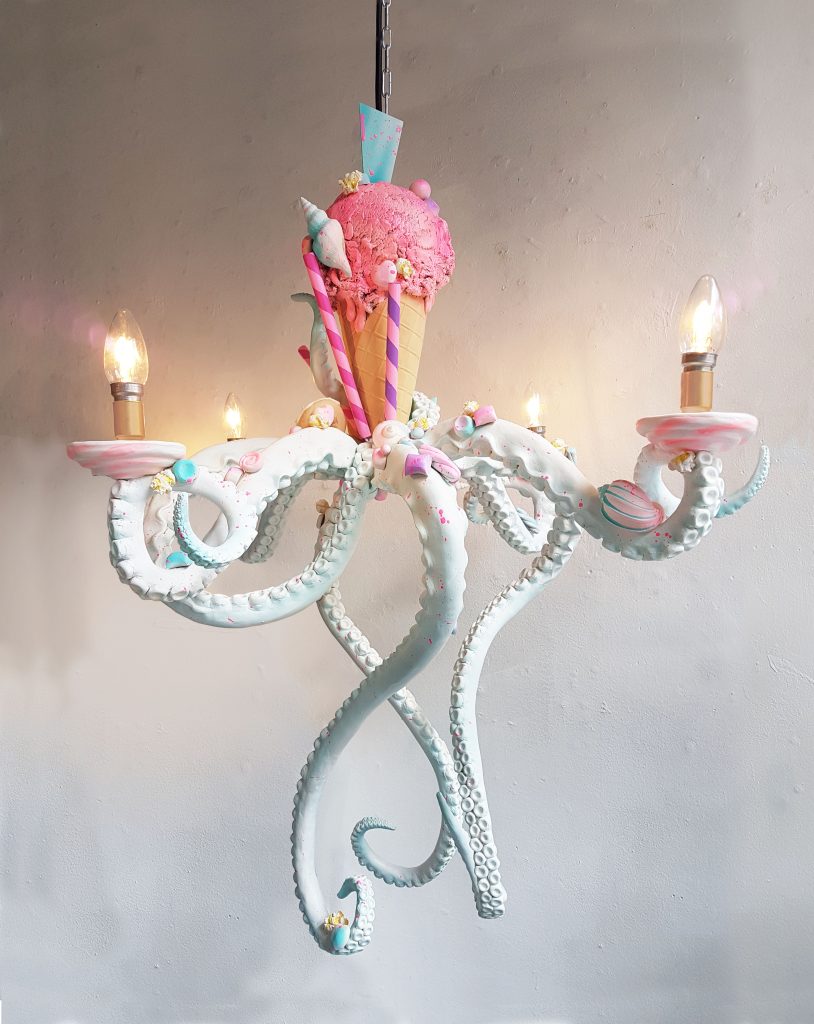 How do you know when a piece is finished?
"Usually, when I hit the deadline!

I could probably fiddle with a piece forever. But, I have learned from working in the film industry for 12 years that sometimes you just need to throw a bit of paint at something, take a step back, let it drip, and sometimes the magic of that burst of energy is exactly what the piece needed."
Where is the best place for people to discover your work?
"You can find me on my website. For more info on my jewelry collection, check out my Etsy shop!'
Do you have an artist statement?
"From the whimsical world of my inner child, I bring you pieces of art with a little spark"
🐙 Octopus Fun Fact
I do love H. R Giger! My pieces are not at all Giger-inspired but I did work as a specialist prop maker and painter on the film Alien Covenant. Definitely, something to tick off the bucket list and a way to finish my career in film on a high note!

I now run my own custom sculpture business full-time.
Thank You For Joining Us For Artist Spotlight!
First, we want to give a big thank you to Hayley Egan for allowing us to showcase these eye-catching art pieces on OctoNation. To continue supporting Hayley and her sculpture art (and jewelry shop), make sure to follow her on Instagram @hayleyegandesign.
If you want to educate yourself some more about all sorts of different cephalopods, take a look at our encyclopedia. Or, what we call it, our Octopedia!
Connect with other octopus lovers via the OctoNation Facebook group, OctopusFanClub.com! Make sure to follow us on Facebook and Instagram to keep up to date with the conservation, education, and ongoing research of cephalopods.
More Posts To Read:
Vee is the blog manager here at OctoNation. Her love and knowledge for all things cephalopods has grown immensely since joining the OctoNation team- and continues to grow daily!
Vee uses her skills of writing, editing, and brainstorming to help create fun, yet educational posts about cephalopods- Something everyone can read and enjoy! As someone who spent the better part of her childhood near the ocean in Miami, Florida, she grew up learning to appreciate all sea life. Her love for the sea inspired her to do something daring- she dyed her hair blue!