'Artist Spotlight' Of The Week: Olivier Leger
Howdy Nation! In today's post, we are going to be featuring our 'Artist Spotlight' of the week: Olivier Leger. A keen scuba diver, Olivier's artwork draws upon his interest in ecology, specifically showcasing the octopus in his piece named 'Worlds Within'!
Meet Olivier Leger!
Inspired by his experiences underwater and his passion for marine conservation, Olivier is considered an ocean wildlife artist. He works full work full-time from my home studio in Leicestershire, UK!
Today, we are showcasing one of Olivier's latest works of art…
'Worlds Within' is a detailed ink painting of a decidedly uncommon Common Octopus! As you look closer, a hundred tiny details reveal themselves; the animals making their home in the vibrant habitats and ecosystems that have been established on her body.
She is an ecological Godzilla, a protector of the ocean!
Corals grow like ornaments on her skin, offering a healthy reef for passing marine life. Balanced on the precipice of a deteriorating ocean environment, she carries her world with care, a sanctuary for the marine life of our world.
Take a look down below…
What draws you in or fascinates you the most about octopuses? When did this start for you?
"I am drawn to octopus by their curiosity, their complexity, their sensitivity, the way they navigate their environment and situations, as Peter Godfrey-Smith perfectly describes it, 'their anarchic bodily embrace of novelty'.

In May this year, I got to spend a few wonderful minutes with an octopus on a dive in the Atlantic, it seemed as curious about me as I was of it, reaching out an arm or two to explore my hand and seemingly trying to pull me into its den!

I watched its constantly changing colour as it tried to figure me out."
OctoNation members love knowing how long your work takes you to complete… Can you describe the process?
"Lots of detail inevitably takes lots of time; my largest projects take six to eight months to complete and my smaller drawings take a couple of weeks.

'Worlds Within' took around 4 weeks to complete!"
Was this modeled after a specific octopus species? Did you use any references?
"I painted from reference images of a Common Octopus and also drew inspiration from a couple of Common Octopuses I've been fortunate to encounter in the wild.

In each instance, I was fascinated by the octopus's constantly changing colours and hope I did their vibrant colours and personality justice in my painting!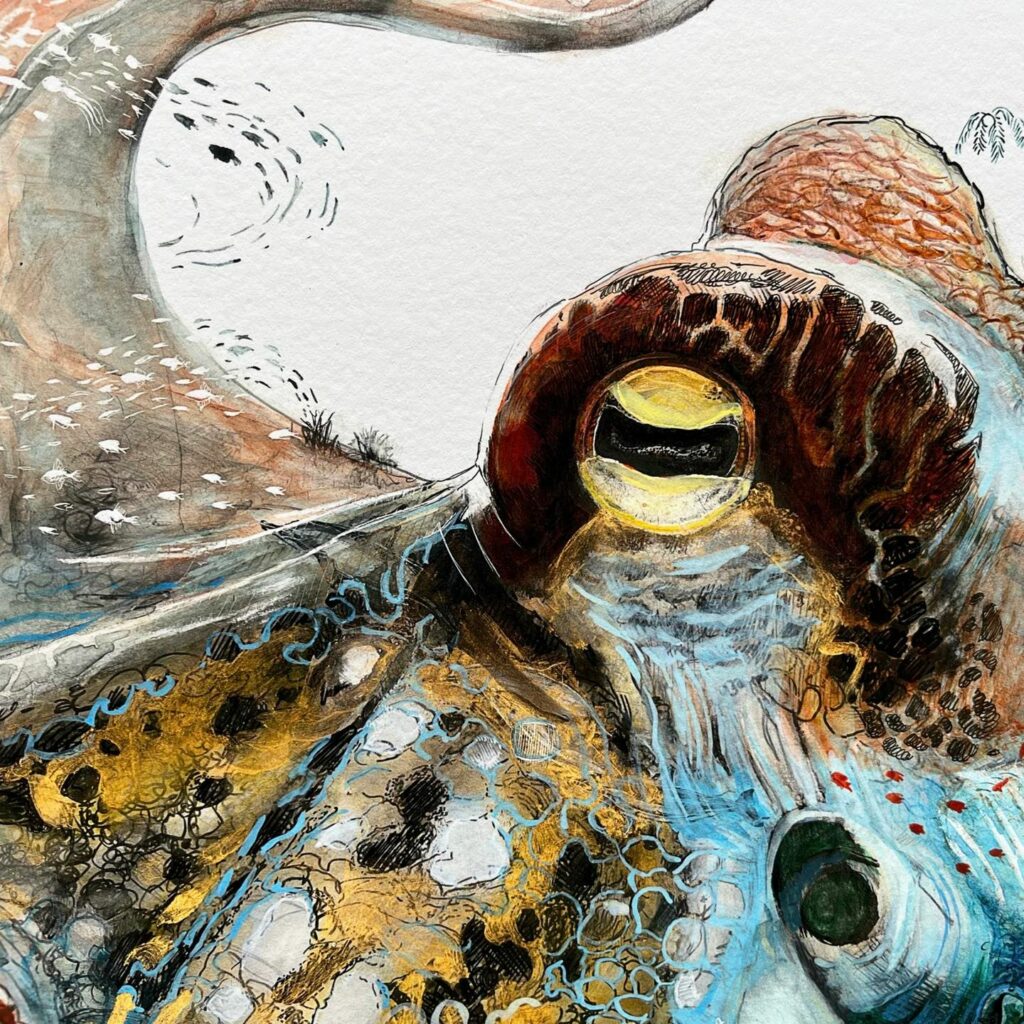 What materials were used?
"'Worlds Within' is an acrylic ink painting. It required a variety of different techniques.

I used:

– Paint brushes

– Fine liners

– Etching points

– Sand paper

Before tackling the painting, I created a smaller detailed plan and used this to experiment with mark making, develop compositional ideas and decide on colour palettes."
Who (or what) are your biggest influences?
"Go right now and check out the beautifully intricate and colourful work of Japanese artist Ikeda Manabu! I am continually inspired by his ambitious, complex compositions and subtle colour palette."
When do you feel the most creative?
"I always say that 'you don't find inspiration, its something that finds you'.

I feel the most creative after being exposed to newness! Most commonly, that's going scuba diving and seeing things I've not seen before and experiencing the unexpected.

That's one of my favourite things about diving in the ocean, you never know what you're going to encounter or experience each time you descend below the surface!"
How do you know when a piece is finished?
"You just know when you know! Perhaps its when you feel like you've adequately learned from all the lessons that particular piece of work can provide… and then you take those lessons on to the next artwork!"
What's the best website for people to discover your work?
"You can discover more of my artwork on my website! Follow my socials to see what I'm currently working on Instagram and Facebook."
Artist Statement
"My artwork explores the weird and wonderful life in our oceans. I weave intricate ink paintings, abundant with details that offer something new to discover each time you look at them! Through my artwork, I aim to highlight the need and opportunity we have, in an era of human-driven environmental crisis, to conserve the natural world and all the wildlife we share it with."
Thank You For Joining Us For Artist Spotlight!
First, we want to give a big thank you to Olivier for allowing us to showcase this beautiful artwork on OctoNation. To continue supporting Olivier and his work, make sure to follow them on Instagram and Facebook!
If you want to educate yourself some more about all sorts of different cephalopods, take a look at our encyclopedia. Or, what we call it, our Octopedia!
Connect with other octopus lovers via the OctoNation Facebook group, OctopusFanClub.com! Make sure to follow us on Facebook and Instagram to keep up to date with the conservation, education, and ongoing research of cephalopods.
More Posts To Read:
Vee is the blog manager here at OctoNation. Her love and knowledge for all things cephalopods has grown immensely since joining the OctoNation team- and continues to grow daily!
Vee uses her skills of writing, editing, and brainstorming to help create fun, yet educational posts about cephalopods- Something everyone can read and enjoy! As someone who spent the better part of her childhood near the ocean in Miami, Florida, she grew up learning to appreciate all sea life. Her love for the sea inspired her to do something daring- she dyed her hair blue!