Deimatic Behavior – An Octopus's Great Defense
Good behavior, bad behavior…deimatic behavior!! Dei-ma-what? Deimatic behavior is when an animal attempts to startle a predator to avoid getting eaten. It is commonly used by animals that lack a strong defense—like a squishy octopus! Take a deep dive and discover how different cephalopods demonstrate deimatic behavior.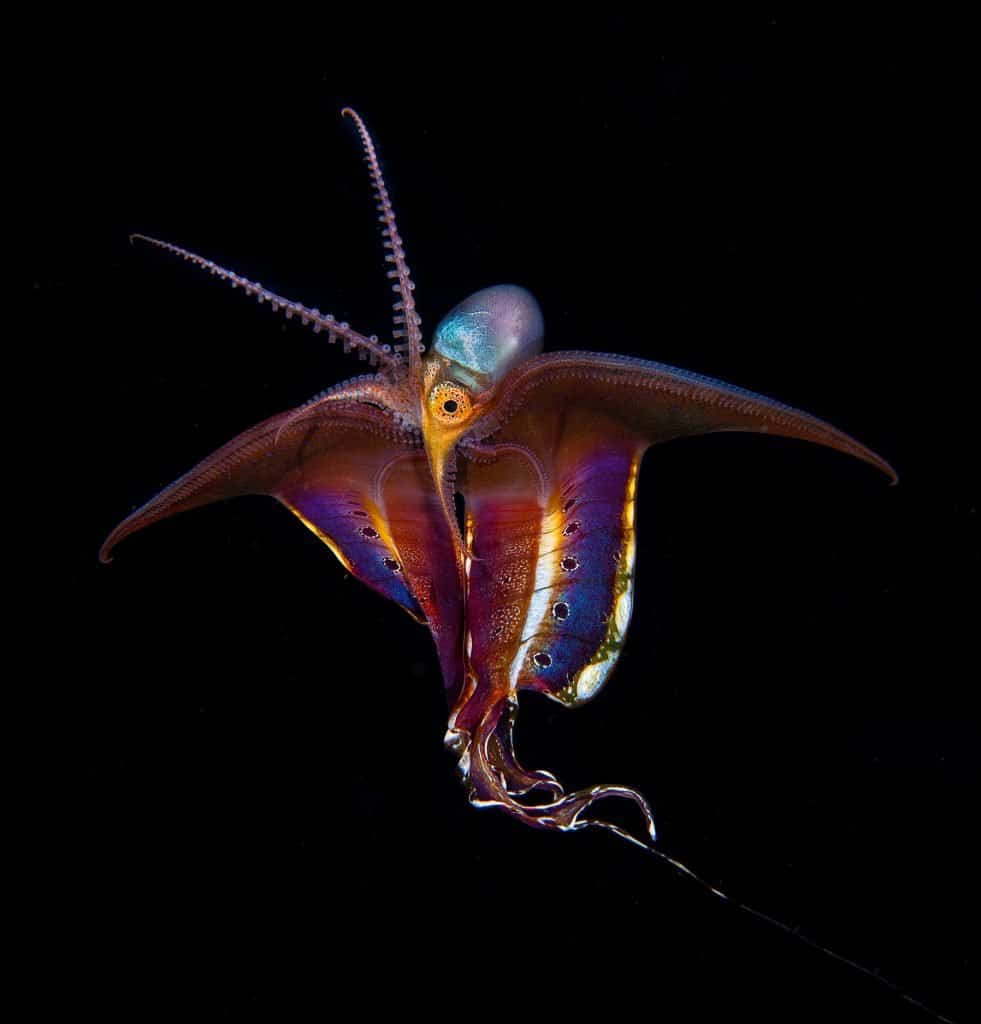 Did you know the word deimatic originates from the Greek δειματόω (deimatόo) which means "to frighten"?
As humans, when faced with a foe, we might puff out our chest to look larger than we are or frantically wave our arms around and shout to scare someone away.
That's about the extent of what a human has to display for deimatic behavior.
Animals far surpass us in this department with:
Crafty camouflages
Bright colorings
Spots on their body that look like eyes
The ability to quickly make their body look much larger than it is
Naturally, cephalopods have evolved some nifty ways to startle, frighten, and bluff their way out of a situation when they are met with a predator!
How Does A Cephalopod Defend Its Self?
When a cephalopod is attempting to defend itself, it can either:
Shoot ink
Jet away
Display deimatic behavior
Or, a combination of all these!
While inking and jetting away helps to startle a predator and escape, it takes A LOT of energy! Ink is expensive (energy-wise) to make and jet propulsion to get away can be so intense that it reduces the amount of oxygen in a cephalopod's tissues.
Even the building up of water pressure inside their mantle can be high enough to stop an octopuses heart… which is why they have less energy costly options available to them.
The most common form of deimatic behavior is rapidly changing color and spreading out the webbing between their arms to appear big and scary.
Flashing, Flickering, Shimmering, Pulsing, Waving, Strobing- A Kind Of Defense!
No, I'm not describing the fantastic light show at a popular nightclub, but the skin of a cephalopod of course!
Octopus, squid, and cuttlefish have complex skin with chromatophores, leucophores, and iridophores that allow them to become any type of flashing billboard they desire in seconds.
If you're about to sit down to eat a dish of pasta and all of a sudden it turns blue and starts flashing red, you would probably fall backward in your chair as you shove away from the table. Either way, you would think twice about eating it.
Let's look at some creative ways that different cephalopods display their deimatic (or threat) behaviors!
Female Blanket Octopus (Tremoctopus)
The Female Blanket Octopus has stunning iridescent webbing between 4 of their arms making them appear much bigger than they actually are. These octopuses are already a decent size reaching up to 6.6 feet (2 meters) in length, but when faced with a hungry tuna, sailfish, or shark, it's helpful to look like something they wouldn't be able to fit into their mouths.
The female's fabulous webbing also contains eye spots which could aid in making predators think twice about attacking.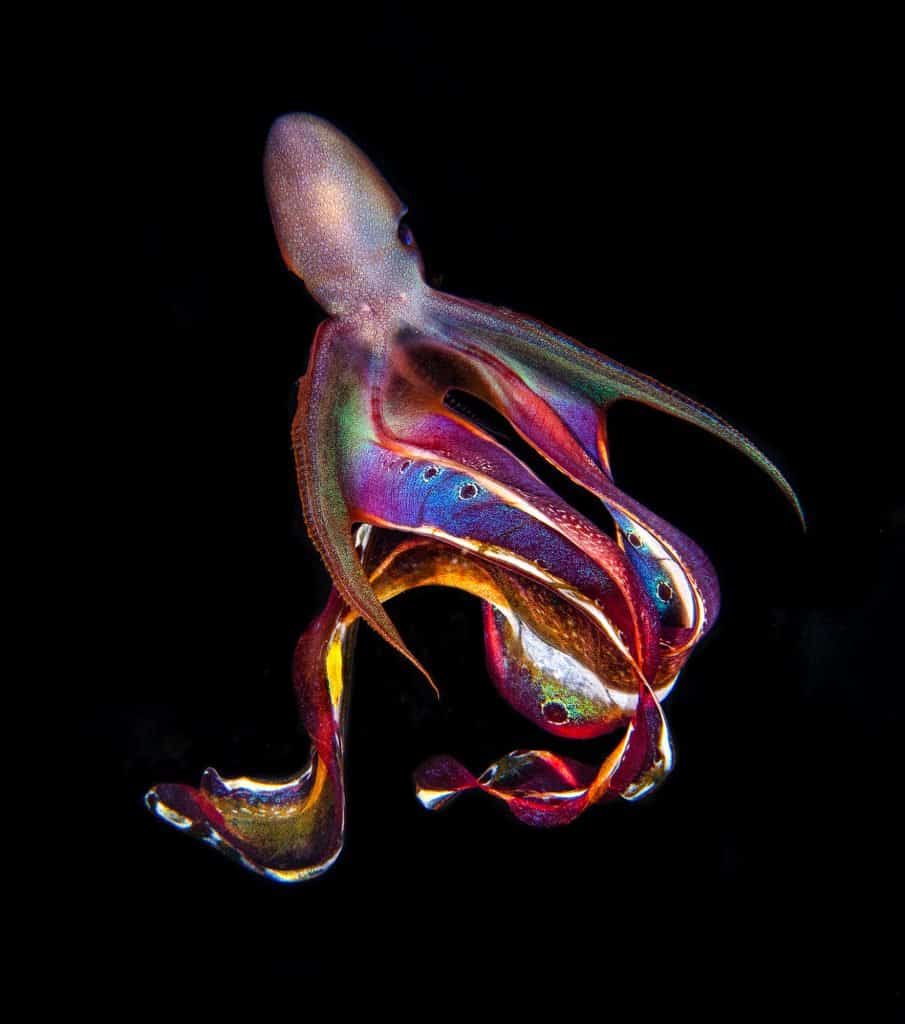 Southern Blue-Ringed Octopus (Hapalochlaena maculosa)
Normally plodding around the reef wearing its inconspicuous reddish-brown coloring, the Blue-Ringed Octopus will turn yellow and flash its bright blue rings if it feels threatened. This lets predators know to stay away.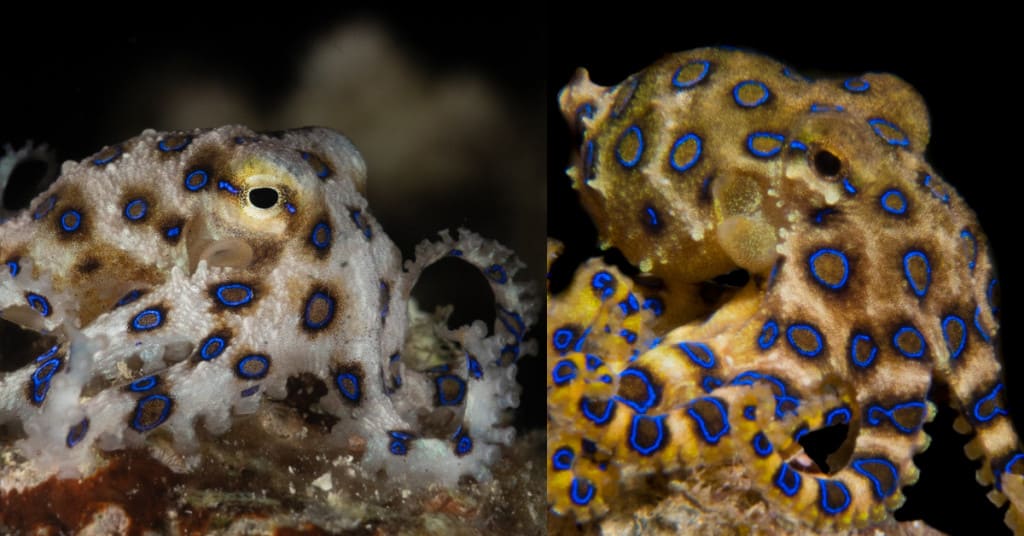 What the Blue-Ringed Octopus has that many others don't is the ability to follow through on their flashy threat. Their bite is extremely venomous loaded with a neurotoxin that is capable of causing fatal paralysis. This includes humans!
If you ever see blue rings on a tiny octopus, make sure you steer clear. While not aggressive, if they do land a fatal bite, they carry enough toxin to kill 26 adult humans.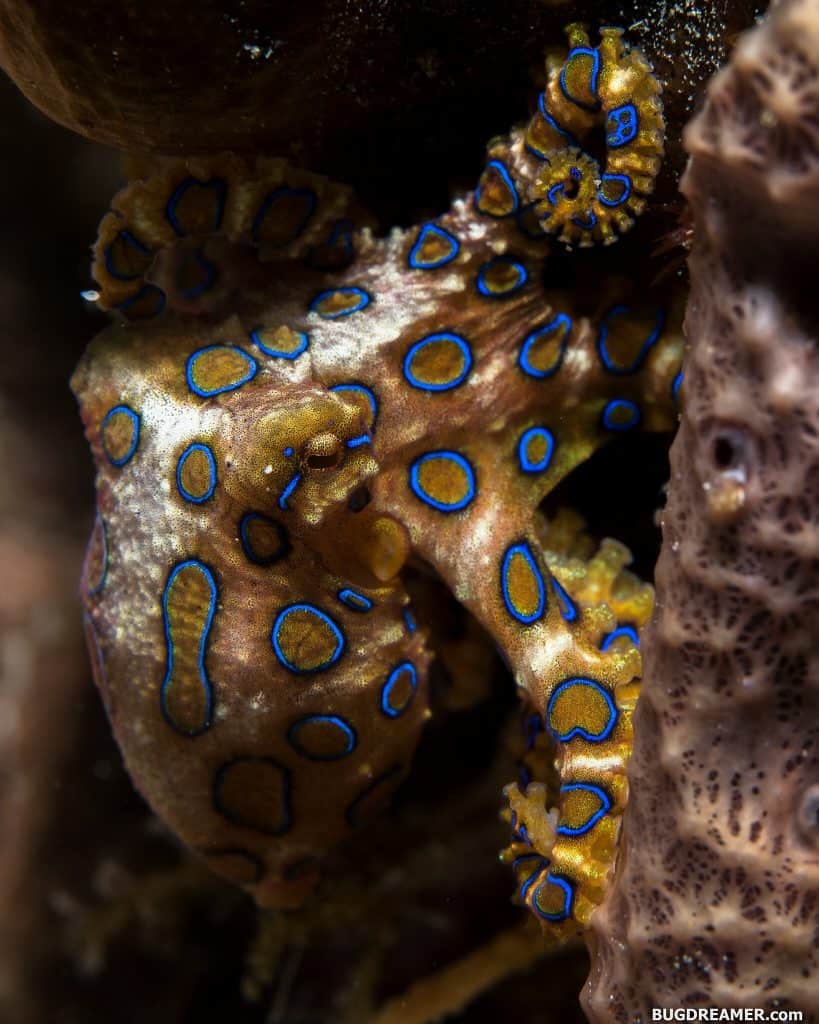 Mimic Octopus (Thaumoctopus mimicus)
If there was a champion of deimatic behavior, the Mimic Octopus would be the winner!
Like almost all octopuses, they have the wonderful ability to change their skin color through tiny pigment sacs all over their body called chromatophores. Changing in the blink of an eye, the Mimic Octopus can recreate itself into 15 (and possibly many more) venomous creatures that live in their surroundings.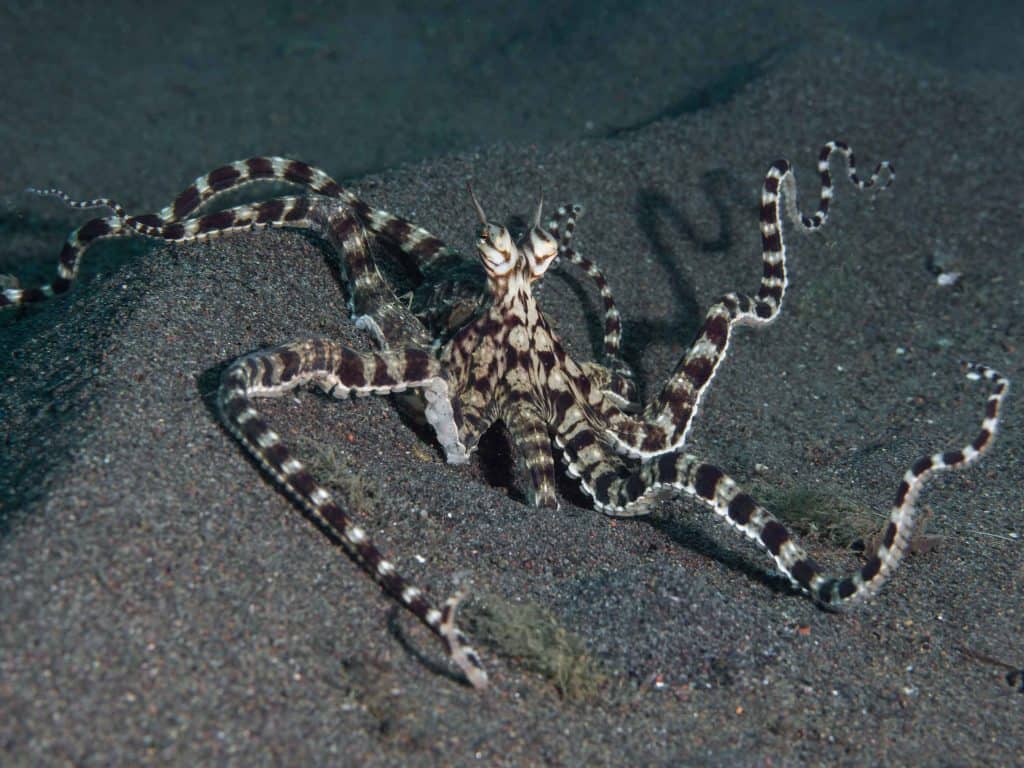 For example, to simulate the Banded Sea Snake, the Mimic Octopus tucks itself into the sand or a hole while sticking 2 of its arms out in opposite directions. It displays black and white bands like that of the sea snake while also impersonating its undulating movements.
This successfully scares off Damselfish who might take a chunk out of a yummy Mimic Octopus but wouldn't dare try to tangle with a sea snake.
Common Cuttlefish (Sepia officinalis)
The Common Cuttlefish uses three classic deimatic displays when faced with a predator.
They flatten their bodies.
Use their handy dandy chromatophores to make their skin pale.
And, produce a pair of black eye spots.
While insects react the same way to every predator, cuttlefish can discriminate between large predators and species and then choose how they want to respond.
How is this possible? They're smart!
Cuttlefish have one of the largest brain-to-body ratios of any invertebrate allowing them to process their surroundings in thoughtful ways. One way they put that big brain to work is to help them determine how big they need to go with their deimatic demonstrations.
So, What's The Ultimate Goal With An Octopus' Deimatic Behavior?
The ultimate goal of all these weird and wonderful displays of deimatic behavior is to shock and scare predators just long enough to give a cephalopod enough time to get away unscathed and live to see another day.
Pretty cool, right?
If you want to educate yourself some more about all sorts of different cephalopods, take a look at our encyclopedia. Or, what we call it, our Octopedia!
Connect with other octopus lovers via the OctoNation Facebook group, OctopusFanClub.com! Make sure to follow us on Facebook and Instagram to keep up to date with the conservation, education, and ongoing research of cephalopods.
More Posts To Read:
If you enjoyed learning about Deimatic Behaviors, we recommend taking a look at some of these other posts: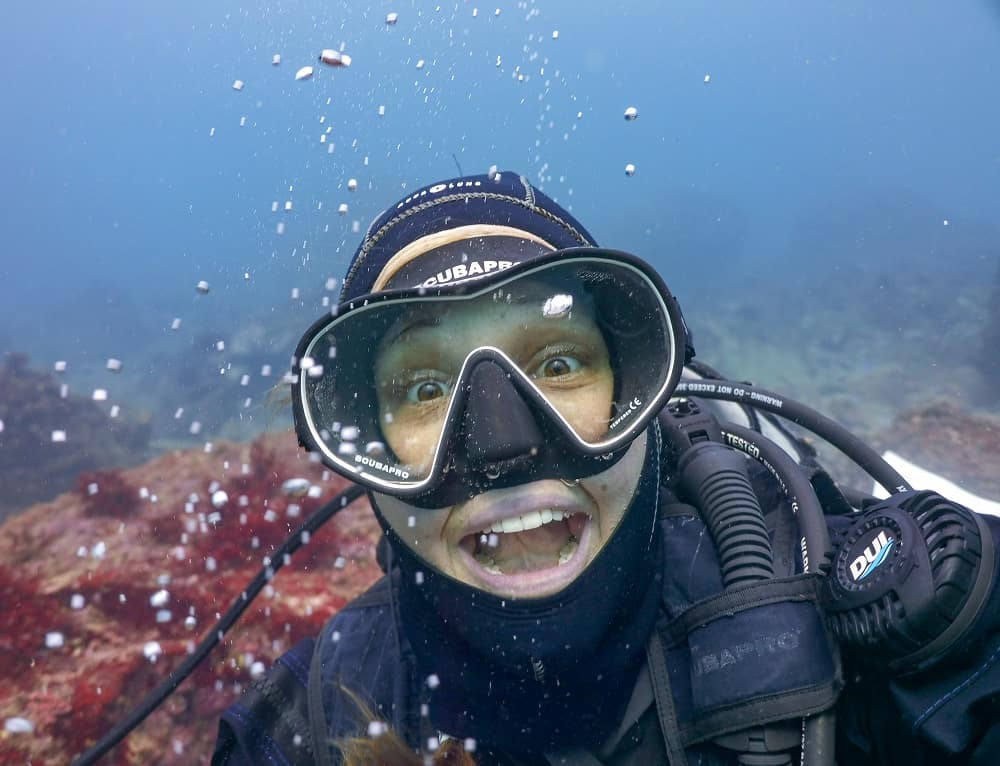 Corinne is a biologist with 10 years of experience in the fields of marine and wildlife biology. She has a Master's degree in marine science from the University of Auckland and throughout her career has worked on multiple international marine conservation projects as an environmental consultant. She is an avid scuba diver, underwater photographer, and loves to share random facts about sea creatures with anyone who will listen. Based in Japan, Corinne currently works in medical research and scientific freelance writing!